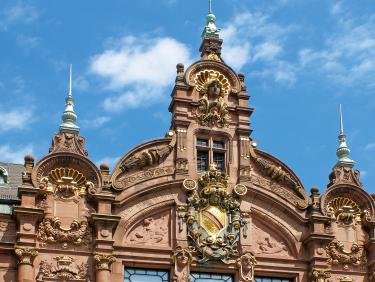 Heidel­berg Uni­ver­sity Library
About us
Welcome to Heidelberg University Library, the oldest and at the same time one of the largest academic universal libraries in Germany! As the central library, the UB is responsible for the university's literature and information supply and is the competence and control centre for a wide range of services.
Literature search
The Heidelberg University Library and the decentralised libraries of the university have around 6.1 million media in their holdings. In our catalogues you can search for our book holdings, but also for digital offerings such as e-books, e-journals and databases. You will also find search options for media worldwide and access to interlibrary loans.
Service
Here you will find all the information you need about using the University Library in the main branch, located in the old town, and in the Neuenheimer Feld branch, as well as our advisory and training services and access to literature search and ordering and the digital library, and much more.
Open Access
Heidelberg University Library supports Open Access as a publication model. On behalf of the rector's office, it coordinates the university's OA activities and offers various services such as a publication fund and publication platforms for e-books, e-journals, editions and research data.