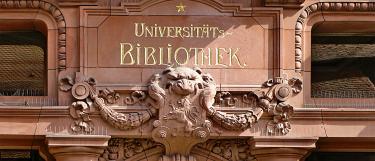 About us
The University Library (UB), with its two locations in the Old Town and Neuenheimer Feld, is the central library responsible for the university's literature and information supply and offers a wide range of services.
Decentralised Libraries
The University Library is the management centre for the decentralised libraries and is responsible for all matters relating to the library system.
Facts & Figures
The library system of Heidelberg University, including the main library and the branch library, comprises a total of 38 libraries. With a stock of more than 3.2 million volumes, 3,000 continuously held printed journals and newspapers and over 150,000 e-journals, the University Library is one of the largest academic libraries in Germany.
Main focus
The University Library is a competence centre for Open Access publishing platforms and digital research infrastructures for the university institutions and projects of Heidelberg University as well as for national and international cooperation partners.